America's Next Top Model Episode 1 Recap
It feels like it has been forever since Nicole was crowned the next covergirl. But finally, ANTM is back with 2 hours of fantastic female cattiness. The first surprise of the episode is that an unflattering shot of Adrienne Curry waggling her tongue was included in the opening montage. I thought after all the unflattering things that Adrienne had to say about Tyra made her persona non grata in the Tyra-verse. And you don't cross Tyra, or she will send you home and yell at you like she has never yelled at a girl in her life.

Of course Tyra is back with a fantastic new wig. But this time instead of having crazy crown volume (that usually exposes her lace-front wigline), she is sporting some fantastic bangs. Thirty-something girls are transported to Southern California, and as I watched the opening footage of these women being carted around in vans (which they will soon, thankfully, upgrade to limos), I desperately yearned for the makeover episode so they could correct the bad hair, and surprisingly bad skin. Their absolute first challenge is to use their own clothes, and recreate 3 Tyra walks. One of these walks happens to be "young, virginal, and upbeat." Funny, I've been a fan of Tyra for years, and I can't remember this phase of her life.

For some reason, a very old wannabe model (who also happens to be a doctor) is chosen as the winner of these challenge. I forget her name, but it isn't important because she doesn't make it to the final 13. At least she has a good job to fall back on, the rest of the girls probably work at Hot Dog on a Stick. The gals are eliminated down to 20, and their first challenge is to pose in front of a cheesy, mall picture booth-esque backdrop for just 10 frames with no direction. The no direction clause is key, because without guidance some models do very very bad. The most notable of these lame posers is Dani. Dani stands out the most among the potential next top models, and not because she is adept or beauiful, but because she proudly proclaims that she is the most republican, conservative person there will ever be. She doesn't like gay people, or liberals, and she makes it a point to announce to a diverse group of women that she doesn't believe in affirmative action. Dani has a lot to learn, because not only does Christainity promote tolerance(Judge not yest ye be judged, bitch), but she is also trying to break into an industry that is populated by its fair share of liberals and homosexuals. She also needs to learn how to keep her mouth shut. Every person in the universe has an unpopular opinion, and that is their right. But announcing it to a room of people you just met who will likely jump all over you, is just plain stupid. Do I go to Nicole Kidman fan sites, and proclaim my hate for her and her hair? No, and Dani, you shouldn't go to a modeling interview and announce that you are intolerant.

And praise the Jesus that Dani hasn't quite figured out, she does not make it to the final 13. This was actually a pleasant surprise for this Purse Dealer, because I was almost sure they would keep her around for the drama. And since the crazy girl is now gone, I don't ever have to get into a spiritual/racial diatribe. Please excuse me, but I had to say something, I will step down from my suede embellished soapbox now.

The top 13 then do a mock press conference, that is highly uninteresting even with the addition of the fantastic Janice Dickinson. Sadly, this is a just a guest appearance, and we are stuck with the polite, understated Twiggy for another season. Big surprise, the gal with the best sob story wins, Nnenna. The prize she receives for this is actually useful, she and two friends get the first choice of their living space in the creepy model-themed ANTM mansion. Each potential next top model chooses a model-themed room that they can identify with. Big suprise, Nnenna chooses the Iman room. I like Nnenna, I really do. She is overwhelmingly beautiful, but I'm already tired of the Iman references. Yes, she looks like Iman and if there is any model you are going to be compared to, it might as well be one of the most revered. But lets hope Nnenna has more going for her than her continent, and from the looks of the first photo shoot, she surely does.

The first photo shoot is a doozy! The gals are faced with the stark reality that they will be going bald. Cut to commerical, and come back, guess what they'll be wearing bald caps! The gals take a huge sigh of relief, but I don't. These women will be wearing fake hair in almost every photo shoot. You might as well start with a blank canvas, and it would make good TV to see the women shaved like they were joining the military or a cult. After all, becoming a model is quite similiar to joining a cult, in order to be successful you must be willing to be broken down, made over, built up and then broken back down again for the next shoot.

Not everyone shines like their smooth bald heads do in the photoshoot. Brooke, Danielle, Nnenna, and Sara do well. Furonda, Gina, Kari, and Kathy do not. Sadly, Kathy is eliminated. This makes me sad because I really liked her Hillbilly dorkish personality and I think Gina (who wants Asian models to be more prominent, but refuses to date Asian men) should have gone home. I wish I could bet money in Vegas on ANTM, because if Tyra knows what she is doing, Gina is going home next week. And Tyra always knows what she is doing, don't you ever question that! Or she'll shave your head.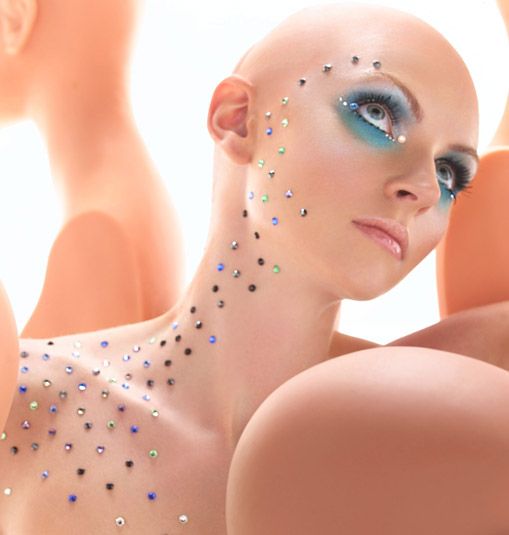 Goodbye sweet Kathy. You just weren't FIERCE enough.

BTW, make sure to enter the PurseDeals America's Next Top Model Pool. If you missed this episode, you can watch the reairing on Tuesday at 8PM. Please get your entries in by Wednesday 7:59 PM EST.