Rafe Shoes on Sale
In the interest of full disclosure -

Rafe is my absolutely fantastic favorite designer

. There will never be a Rafe item that I don't covet. Even his ugliest designs (and trust me, there have been some ), I will defend.

If you are die-hard Rafe fan, such as myself - you will find this blog very helpful in finding Rafe deals. If you're still not on the Rafe love train, by all means check out the official site: www.rafe.com . The Resort 2006 line has just come out and it is absolutely fantastically favorable. Hopefully after just a couple glimpses you'll be able to put together your own triple-superlative.

Here's the latest Rafe deals I've scouted. These cute sandals are from the Spring 2005 line, but can you believe it's already February? It's time to plan ahead for Spring and Summer, and at 50% off these will look great on your first day at the Beach this season.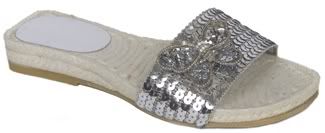 Both shoes are

$82.50

. at The Purse Store. Use code Extra10 to get an extra 10% off. And don't forget about The Purse Store's unique Purse Points System, that rewards you for shopping!

Search eBay for Rafe

Previous Rafe Post:
Rafe Resort Bags Already on Sale