Blow Out Is Back!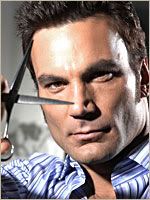 Just when you thought it was safe to grow hair out of your head, Blow Out is Back! A whole new season begins on Bravo

TUESDAY, MARCH 21 AT 9:00 P.M. ET/PT

.

Will the show actually focus on hair this time, or will we just see more of the King Bitch's tantrums than ever before? And wasn't his "girlfriend" supposed to be having a baby. If you thought TomKat's spawn was gonna be be bad, I can't wait to see the JonaSpawn!

When it happens, Bad Hair Day will be there - with weekly recaps and plenty of Blow Out Polls (because I really want to know if other people find him to be as ridiculous as I do).

I'm also looking for reviews for the Jonathan Product line, available at Beauty.com
. If you've tried out the much-bemoaned about Jonathan Product Dirt, Texturizing Paste
drop me line at OptionalEntertainment@gmail.com! I would love to post your review.