Purse Shopping Advice for Men (who have very lucky Girlfriends)
I recently got an email from a man who had a very valid question, so I wanted to address it here:

"I am hoping you can help me. My girlfriend's 24th birthday is in two weeks and she is dying for a new purse. Her last one was a Balenciaga Motorcycle. I know nothing about which the hottest bags are right now, but I have a feeling you do. Can you offer any suggestions? My price range is basically $300-$1200. Please help. Thanks so much"

A purse is a perfect present, especially since she is in the market for a new one! You don't have to worry about sizes, and you can buy a great bag online in the comfort of your own chair. All the best purse stores have giftwrapping options - so with just a click you can have a great gift wrapped, ready, and delivered to your door. Now, as a disclaimer for my fellow purse dealers, I won't be offering any sale bags as suggestions - simply because the hottest bags don't go on sale this early in the season.

An important thing that all men should know is what color is the bag she got last? If her Balenciaga is black - don't get a black bag. She won't use your present as often if she already has a bag she loves in the same color. If most of her bags are a neutral color, stay in that same color range - go for brown, or beige. If she happens to own a lot of brightly colored bags, she might find a black or brown bag boring, so go for something bright, but also safe, like a dusty pink, red, or a deep blue. I say a safe color, because you don't want to pick a polarizing color - like lime green or bright orange. A very small spectrum of women like loud colors, and you don't want to risk getting a great bag in a bad color.

Based upon her previous purse and her upcoming age, I picked two youthful, edgy bags that happen to be rightfully hot right now.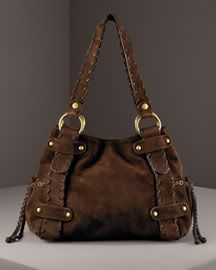 Sienna Shoulder Bag by Kooba in Chocolate Suede $595.00 at Neiman Marcus
Anyone who follows handbags knows how much this bag has been buzzed about this season. It is from a newer brand so you are sure to amaze your girfriend with your savvy.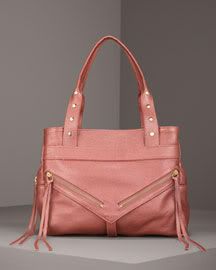 Botkier Luxe Trigger in Metallic Mauve $610.00 available at Neiman Marcus.
This bag is also available in Gold, Black, or Mahogany.
You will never hear anything bad about Botkier from me. I will probably never stop singing the praises of the Botkier Trigger. It is renowned by most fashion fans for its fabulous function - it has three separate compartments and even a couple secret pockets to keep you orangized.

The bags I suggested have a motorcyle bag feel to them which is very popular among young women. If you are shopping for a woman who has a more classic sense of style, there is something all Handbag shopping men should know: You can never go wrong with Vuitton or Dior. All you need to know is these brands are the holy grail for Purse lovers. If you decide to take this route, they are more costly and I've picked out two hot new bags that have classic styling that will make them timeless.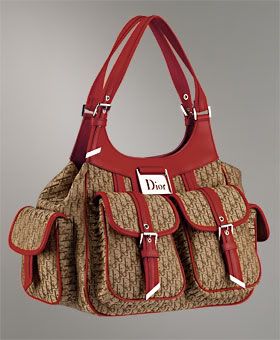 Louis Vuitton Batignolles Horizontal $750.00
Dior Diorissimo Hobo $890.00


These are two beautiful bags that have a lot of great buzz surrounding them. When buying Dior and Vuitton online, always remember: ONLY SHOP AT eLUXURY
! They are the only online store that sells authentic Vuitton - the rest is fake! As cheaper and tempting as it may be, never buy a fake designer purse for a gift. Most people already know what a faux pais that is, but I did want to make that perfectly clear.

Any man would feel lost among the hundreds of great bags there are to buy. Hopefully, this post was of some help. If you're shopping for someone special and you're confused about what to get - just send me a note at Pursedeals@gmail.com. If you include your price range, her favorite colors, designers, and a brief note about what her fashion sense is I can probably help you out.

Best of luck shopping! And for all you lucky ladies being shopped for, best of luck getting!