Halloween Costume Update
Yes, I am obsessed with Halloween - but I love any excuse to dress up to entertain or offend.

To get everyone caught up, here are my two previous Halloween Posts:
10/5: Fall Fur Fashions Inspire My Halloween Costume
10/7: Halloween Costume Ideas

Only 19 more days to Halloween, so here are a couple more costume ideas:



Daphne From Scooby Doo: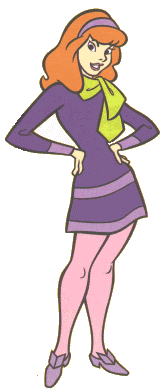 Finally an excuse to don your favorite matching purple headband and Go-Go boots! Get a fantastic red wig, throw on a stylish purple dress and green scarf - and Viola, you're the fabulous mystery solving Daphne!

I found a great purple dress and bag that would be perfect at SmartBargains.com

Kay Unger Raspberry Silk Cocktail Dress
$99.00

(Original Price $338.00)
BCBG Girls Core Nylon Shopper with Leather Trim
$59.99

(Original Price $89.00)
Lizzie Borden:
Now, this isn't as glamorous of a costume as Daphne, but gory is good on Halloween.

Find an old-fashioned frock, the cheaper the better because you are going to splatter fake blood all over it. You should be able to find some good fake blood at your local costume store, while you're there pick up an axe and put the fake blood on that. Throw your hair up in an old fashioned hair style and what the heck, throw some fake blood up on that too.

Here are some updates on the previous costume ideas:



I found the perfect fur wrap for my Cruella Costume! It's gorgeous and fake and even though I'm just buying it for my costume I know I will wear it again and again.

Bill Blass Brown Faux Fur Capelet
$49.99

(Original Price $90.00)

A cheaper option for my fellow Cruellas is a rabbit fur capelet:

Smart Set Black Rabbit Fur Capelet
$27.99

(Original Price $50.00)

For all you Martha Stewarts this Halloween, I found the perfect cheap poncho!

Jones New York Chain-Stitched Poncho

Available in White, Black, or Pink.

Just $24.99

(Original Price $50.00)
I recommend the Black for your Martha costume. And even though this is a costume purchase, I think it will be great for winter!

I found my Cruella costume and wig at the following store, they have a lot of other great costumes too. Halloween is coming soon, so if you order online you should do it soon!


Costume City - The Costume Superstore